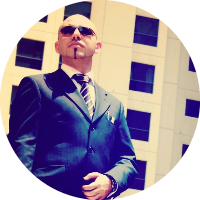 Mc Bassam
Country: United Arab Emirates
Current City: Dubai
Gender: Male
Available to Travel: Yes
Biography: A passion to the microphone that brings out the adrenaline day by day. Bassam been hosting live events for almost 20 years in UAE, Qatar, Saudi Arabia, Lebanon, Armenia, Georgia, India, Sri Lanka and much more. Bassam strives to give out the out most best performance when hitting the stage lights. Dealt with with several clients such as: government entities, private functions, birthdays, anniversaries, baby showers, live concert shows, international startup summits, sporting events, tv shows, radio anchoring, quiz shows and much more. Speaking both Arabic and English made Bassam the best bilingual Mc in the UAE market.
Hostess
Voice Over Actor
Actor
Drummer
Height : 167 cm / 5ft 6in
Ethnicity : Middle Eastern
Degree: Higher National Diploma in Hotel and Hospitality Management / Business and Tourism Management
Country : United Arab Emirates
Passing Year : July 2001
Customer Appreciation
Venue/Company: Emirates Airlines
Location: Dubai
Time period: January 2000 - January 2001
Description:
---
Customer Feedback
Venue/Company: HP
Location: Jamal Ali
Time period: February 2001 - September 2001
Description:
---
Reservation Supervisor
Venue/Company: Rotana Hotels
Location: Sharjah
Time period: November 2002 - June 2004
Description:
---
Senior Cabin Crew
Venue/Company: Air Arabia Airlines
Location: Sharjah
Time period: August 2004 - February 2006
Description:
---
Career/Health and Physical Education Teacher / Coach
Venue/Company: Dubai American Scientific School
Location: Dubai
Time period: March 2006 - May 2012
Description:
---
Freelance Host/ Emcee / Presenter
Venue/Company: Mc Entertainers
Location: UAE
Time period: January 2000 - Currently working
Description: Emcee & Voiceover, KJP, Vox Arabia, Infamous, ICS - Cartoon Character, official arabic vo of the Ferrari World cartoon midget, Lebanese Monologue, Lebanese Slang, Arabic Monologue, Super Fun and Artistic Voice2010 -Promotion, LG, Samsung, Showtime, Emirates, Iffco, Mix FM, Kia Motors, Mercedz, Yas Island - My role was in all jobs as an Emcee, but yet handling reports, shifts, staff shift, food delivery, uniform setups, payments, entertainment, handling logistics, security infos, registration, parking facilities.2009 -Entertaining, MC Entertainers - Learning all the basics of being a fun and entertaining presenter, learning stage skills, learning to approach kids behavior, learn to control the crowd2000 -TV Presenting: no school at all - MBC Training Part Time : Learned the basics of handling scripts, learned how to stand infront of the camera, learned the trick of pointing stuff without anyone realizing, learned the ABC of presenting, knowledgeable about everything has to do with filming. In a matter of fact tried to learn on how to edit a full movie.MC Entertainers - been given the chance to present and hold conferences to assist and help clients, students and influences to act on stage correctly to break their own stage fear and present their subject or task as needed and asked about. Never was too easy to reach this position but yet i did.Multiple Companies - In this role i have experienced jobs like never before, all my info and update could be found on my social media and my learning skills that i took from other presenters and professionals2008 -Airline Companies - in this role and position as a cabin crew, i have gained more experience by directing my message to the live audience or passengers. having my words said every day gave me more confidence in presenting and broke the fear of stage easily.2004 -Tim Lauren Events Management - in this company i learned more of being an organised person and handling my voice tempo much clearly, holding multiple meetings and training every couple of month gave me the chance to have a stronger pitch on my voice and my tonality.2000 -MC Entertainers - Lived this role from day one i started being a live freelancer presenter/emcee/djNON - Never acted before with any agency, but i always had this ambitious energy to practice to my self and achieve my goal. My only training was watching other actors and try to do somehow what they do, but not at all to copy, but i create my style.BEN 10 Tv Show - Hosted one of the best shows in that year with me being the BEN10 Personality. Played games with the kids for more than 4 days under a nice category of obstacles that they need to finish without falling down or missing an answer when a question is asked. The day was filled with so much of fun and excitement and loads of laughter. Its always great to work with kids.2007 -MBC Morning Show - Being invited as a guest for more than 5 weeks to speak about the Health of Students along with their families issues in the community we live in. Afterwards, got an internal job as a freelance TV presenting to cover all their interviews outside the main studio whenever possible.
---
Schedule Status
Not Available